location and travel

ms Stubnitz will be moored on Newcastle Quayside near the Millennium Bridge and opposite the law courts,
a 10-15 minute walk from the city centre and a few minutes walk from BALTIC.
BALTIC is situated on the Quayside in Gateshead, the main entrance is on Baltic Square and is a 10 minute walk from Gateshead town centre and Gateshead Metro/Bus Interchange. The nearest Metro Stations for MS Stubnitz and The Live Theatre (for tickets) are Monument and Central Station. BALTIC square, the departure point for coach tours, is situated directly in front of BALTIC.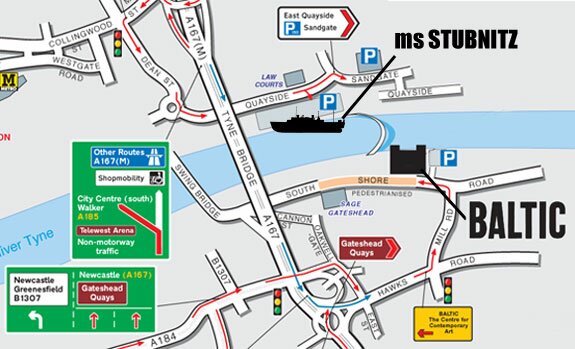 Access for pedestrians and cyclists from Newcastle Quayside to BALTIC is over the Gateshead Millennium Bridge. For details of buses which cover the quayside area call travel line on 0870 608 2 608 for details.
Paid parking spaces are available on both the Newcastle and Gateshead Quaysides. The car park to the rear of BALTIC has a maximum stay of 3 hours, 70p per hour 08.30-17.30, £1 flat rate 17.30-midnight.
To pick up tickets, the Live Theatre is situated on Broad Chare, just off the Quayside next to the Law Courts and across the road from the Millennium Bridge - a 10-15 minute walk from Newcastle Town Centre, transport details are as above.

access

Please note, we regret that due to the nature of the venue, ms Stubnitz has limited disabled access and no wheelchair access. As an alternative for visitors, screenings of selected performances on ms Stubnitz will be shown at BALTIC, please see programme and schedule information for full details.

accommodation

For details of accommodation in the region call the NewcastleGateshead Accommodation Booking Service on: (charged at 25p per min) or alternatively to search for all types of accommodation in NewcastleGateshead click here.
Please note that there are several events taking place in NewcastleGateshead this weekend, early booking of accommodation is advisable.
The regional tourist information centres will also be able to offer further advice on accommodation.