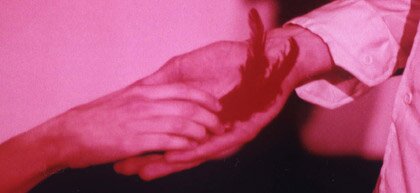 years, years follows the resonance of its title: a sense of time passing, of journey, of rhythm, of memory, of desire, of times to come. It is a contemplation on heritage and destiny, on being absent, on being stuck, on being-there. It is a journey into the woods with all necessary attempts at (dis)orientation.
As in its title, years, years approaches these themes through their inherent musicality: it seeks to capture something of how they dictate the rhythm of our lives.
The performance continues Deer Park's unique explorations into a new genre of musical theatre: its use of rhythmical structures, detailed layered atmospheres, soundscapes of text, live and recorded music can affect, confront, confuse, challenge, stimulate and inspire the spectator's sensory and intellectual faculties.

Deer Park was formed in 2002 at Dartington College of Arts and is currently based in Bristol, UK.
The companies previous performance see you swoon was selected for the National Student Drama Festival, Scarborough (Award for Best Devised Piece) and Elevator, National Review of Live Art, Glasgow, as well as invited to a variety of venues in the UK.

years, years was produced with support from the Arts Council England South West, Nuffield Theatre, Lancaster, Dartington College of Arts, Battersea Arts Centre, London and Cube, Bristol. Deer Park is currently an associative artist of Arnolfini, Bristol.

Contact: