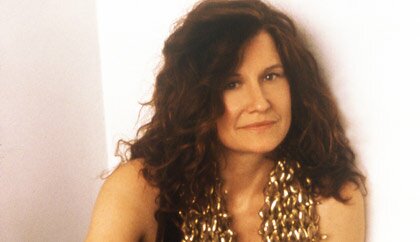 Karen Finley is a New York based artist whose raw and transgressive performances have long provoked controversy and debate. She has appeared and exhibited internationally her visual art, performances and plays. Her performances have been presented at Lincoln Center, New York City; The Guthrie, Minneapolis; American Repertory Theatre; The ICA in London, Harvard, The Steppenwolf in Chicago, and The Bobino in Paris. Her art works are in numerous collections and museums including the Pompidou in Paris and Museum of Contemporary Art Los Angeles. Finley attended the San Francisco Art Institute receiving an MFA and honorary PHD. She has received numerous awards and fellowships including a Guggenheim, 2 OBIES (Off Broadway Theater Awards), 2 BESSIES (Broadcast Executives Society awards), MS Magazine Woman Of The Year, NARAL Person of the Year, NYSCA (New York State Council on the Arts) and NEA (National Endowment for the Arts) Fellowships.
Finley was one of four artists whose NEA grant applications were vetoed in 1990 due to content considered "indecent". Finley and the other three artists sued for reinstatement and won the case in 1993 in the ninth circuit court in Los Angeles. The ruling was appealed and the case went to the Supreme Court and lost, in a decision that allowed the government to place restrictions on funding based on "decency standards".
Besides her numerous performances, plays, installations and artworks Finley has made numerous dance and spoken word recordings on various labels alone and in collaboration with various artists including Jerry Hunt and Sinead O'Connor.
She has appeared in many independent films and appeared in the film Philadelphia.
She has authored and or edited six books including Shock Treatment (City Lights 1990), Enough is Enough (Poseidon, Simon and Schuster 1993), Living It Up (Doubleday 1996), Pooh Unplugged (Smart Art Press 1999), A Different Kind Of Intimacy: The Collected Writings of Karen Finley (Thunder's Mouth Press 2000), and she edited and contributed to Aroused, A Collection of Erotic Writing (Thunder's Mouth Press 2001).
Besides her performances Finley has continued to create public sculptures and installations such as Black Sheep at Houston and First Avenue in 1990-91, Memento Mori (1992-94), and creates site specific art works, public images and events. In 2003 she created SCREAM OUT! a political action group work where women spoke out against The Patriot Act and the government and then screamed out. This public performance was done with WAC (Women's Action Coalition, New York) and presented at St Mark's Church. Her latest installation is a project called Psychic Portraits which are intuitive and automatic drawings. This year they have traveled to the Boulder Museum Of Contemporary Art, The Kitchen in New York City and to the Marfa Ballroom Museum in Texas.
For the 2004 US presidential election she created George and Martha, a performance about an affair between George Bush and Martha Stewart. This play was made available over the web to download for theatres and citizens to access before the election. She is currently working on a novella of George and Martha.
Finley currently has two new works in development, The Passion of Terry Schiavo, a monologue that explores the provoked emotions in removing life support, and The Dreams of Laura Bush, a performance and consisting of the dream journal of Laura Bush in text and drawings.

Karen Finley is currently a visiting professor in Art and Public Policy at Tisch School of the Arts, New York University.


The First Installment of The Dreams of Laura Bush (world premiere)
Karen Finley will inaugurate her newest project, The Deams of Laura Bush, for navigate. The Dreams of Laura Bush will be a performance, and subsequently, a book and visual exhibition upon its completion.
For navigate, she will exhibit her drawings to date and will give a reading of the dreams. This is a work in progress and upon completion the dreams will be developed into further constructions of tableaux vivant, video projection and re-enactments.
The presentation will be both an exhibit of the drawings and narratives from Laura BushŐs personal dream journal entries and a reading of the dreams with interpretations. For the performance element seen as a work in progress she will give oral presentation of the dreams with projections of the drawings.
The style of the narrative will be a series of dreams presented in the first person by the First Lady of America. The dreams will be revealed as an intimate recounting of her dream journal entries. In both visual representation and handwritten texts they will be intimate disclosures of repression, desire and power. The dreams will reveal contemporary issues mixed with traditional classic neurotic and Oedipal transferred examples. The dreams will be blending associative characters with personal meaning and public fame, put into a context of a unique display of the irrational, surreal elements of her psyche and the psychotic culture she embodies figuratively and symbolically. The dramatic plot lines of taboos, guilt and shame will be available. The dream narrative will view public and private affairs in the natural surreal theatricality of the dream landscape where private and public displays of psychotic transference abound in the ever-present nightmare of occupation, war, greed, and imperialism.
Where we are all waiting to wake up from this very bad dream.

Psychic Portraits
navigate ticket holders are invited to have their intuitive portrait drawn by Karen Finley. The subject sits with the artist as she creates a portrait likeness with automatic writing and image in gouache, ink and watercolor. Ms Finley translates her intuitive impressions for the subject. The drawings are then exhibited. Each session is approximately half an hour. Besides individual psychic portrait sessions, relationships, pets, special questions, and souls from beyond are also available.
Psychic Portrait sessions will be available daily by appointment on a first come, first served basis. Information on how to book your session will be available at the navigate venues during the festival.