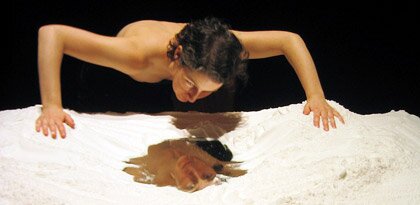 salt drawing (following)
A solo performance for a solo spectator.
A five minute performance for only one audience person at a time.
Advance booking advised. Limited audience capacity.

The performer waits for you to follow. The equivalent mass of her own body weight is measured in salt; the 54kg of salt is a deadweight, too heavy to lift, twice her weight as a girl. Just a handful is the (approximate) (average) amount of salt contained in one body. She works as navigator, setting a course and piloting the action through time and space, erasing and re-tracing the movement. The solo audience is invited to follow a brief moment of choreography, to view the picture of the performer faithfully starting again and always betraying the difference.

Fiona Wright has been making mostly live, solo performances since the late 1980s, presenting extensively in the UK and Internationally. Her most recent work has a focus on small and limited audience contexts; short performances for the audience, become repeated over time as long works for the performer. Her work is driven by a fascination with the image of the lone figure and the uncertainty and incidental intimacy in performance. Her performances are personalised and yet unconfessional, with a focus on the particular body of the performer. Over the years this work has often been described as "subversive" and even "rare". Some say images of control and strength seem to flicker with moments of fragility.