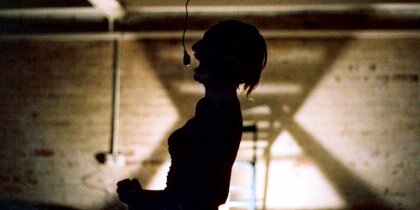 Janine Fletcher has an incipient impediment.
Janine loves to refine the repeating rule, to articulate her dancing body, demonstrate the humour of her props, control her inarticulate costume, fly her voice.
Her rules are simple,
(i)ii sustain suspension
(ii)i assault alignment
(iii) ossify oscillation

Janine Fletcher's work embraces dance, live art and film. She graduated from the Dance and Visual Art course at the University of Brighton and has since devised and presented work at Visions - the festival of visual performance, Brighton Festival and The National Review of Live Art. She has also generated short sharp performance shocks at alternative cabarets Voodoo Vaudeville and Lost Vagueness, and collaborated extensively with award winning filmmaker Nerea Martinez de Lecea.