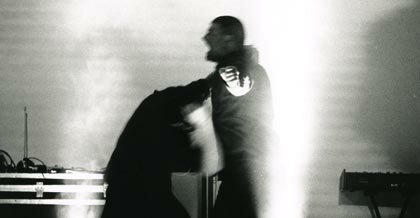 La fleur inverse (The Reversed Flower)
La fleur inverse is based upon a song of the 12th century troubadour Raimbaut d'Aurenga, master of the "trobar clus" poem where the interlacing of the words and the sounds could be compared with that of the breaths in a kiss... or with a lightning...
"Now the reversed flower shines among the sharp cliffs and among the hills. What flower? Snow, ice, and frost which stings and hurts and cuts; wherefore I see calls, cries, songs, and warblings dead among the leaves, the branches, and the twigs. But Joy keeps me green and gay now when I see the grievous evil persons withered.
Raimbaut d'Aurenga
"I have gone like a crazy thing" sings Raimbaut d'Aurenga in this song, which radically reverses the compositional conventions of courtly poetry. He compares his love with a flower of ice "which stings and hurts and cuts", and so claims a higher madness as the essence of poetry and love.

Etant Donnés (Eric and Marc Hurtado) are well known for their films, their music, and their live performances. Violently multidisciplinary, the two brothers devote themselves to music, cinema, poetry and apocalyptic performances with a rage that leaves their audiences flabbergasted. Their career spans 12 albums and collaborations with such emblematic figures of industrial music as Alan Vega (Suicide), Genesis P. Orridge (Throbbing Gristle, Psychic TV), Lydia Lunch, Michael Gira (Swans), Bachir Attar (Jajouka) and performances at major festivals (Sonar, Transmusicales, Atonal, Obliques...).
For navigate, Etant Donnés will be joined by Jérôme Venin on drums, and Christophe Van Huffel on electronics.