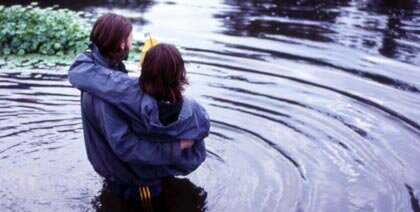 Channel 6
a navigate commission

During a voyage between two seaman's missions, Lone Twin will create their very own ship's log - an evocation of the journey's sea-soaked activities. The following, newly commissioned performance, will attempt a navigation of that voyage, negotiating the certain and the uncertain, the romantic and the real, the Gull and the Albatross. Life on board ships has long been the stuff of myth and legend. Here Lone Twin pull anchor in search of wild seas, Moby Dicks, ocean depths, cocktail hours and Ellen MacArthurs.
"What made my father's log so special was not the recorded wind speed of the day, or the course setting and point destination, but rather his comments on the characters and relatives that used to join him for a ride, the frustrations he had getting his wife and three children ready and organized for a day trip, his dreams and plans for his boat, and his humorous descriptions of cocktail hour."
John Kokulis, Ships Log


Lone Twin
Lone Twin make performance work which deals playfully with ideas of travel, place and orientation. Working across contemporary theatrical, live art and dance contexts, performances offer generous entertainment while inhabiting extreme physical conditions. Audiences often join the two performers in unprompted acts of support, friendship and collaboration. Performances last between an hour and twenty-four days and are made and shown in theatres, galleries and everyday spaces.
Active since 1997 Lone Twin have shown their performance works across Europe, North America and Australia. Performances in 2004 took place in Belgium, Sweden, Norway, Germany, USA and Ireland. Performances in 2002-03 took place in America, Australia, Canada, Portugal, Finland, Estonia, Sweden, Norway and the UK. In 2003 Lone Twin were Arts Council of England International Fellows at Kunstlerhaus Mousonturm, Frankfurt. In 2004 Lone Twin presented To The Dogs, a 24 day performance commissioned by kunstenFESTIVALdesarts, Brussels.
Currently Lone Twin are touring Europe and the USA.